Published by Manann Publishing 2017
Copyright © Michael Cannan 2021
I just devoured Hunting Concrete Lions, a memoir from Michael Cannan on addiction. It's raw, honest and gives a great insight into how addictions can take over everything in their path. I read it cover-to-cover in record time, finding it impossible to put down. It's hard to read in areas – you will be shocked, but you will also laugh and learn a lot from Michael's bravery in sharing his truth.
- Alison Canavan, Sunday Independent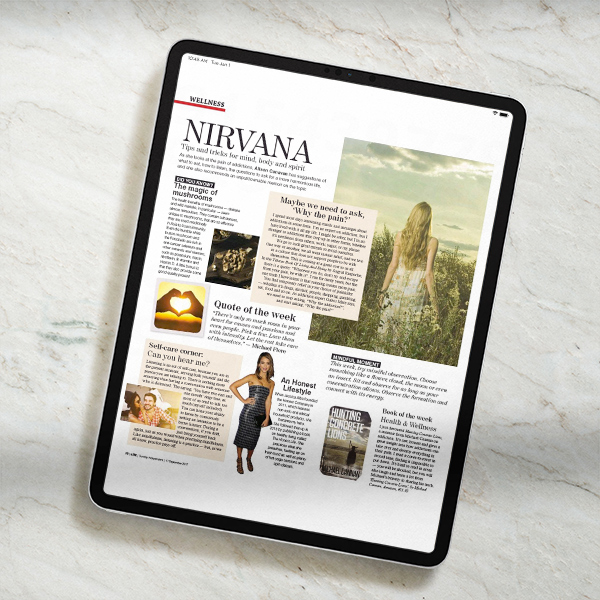 Strangely brilliant...a totally different book.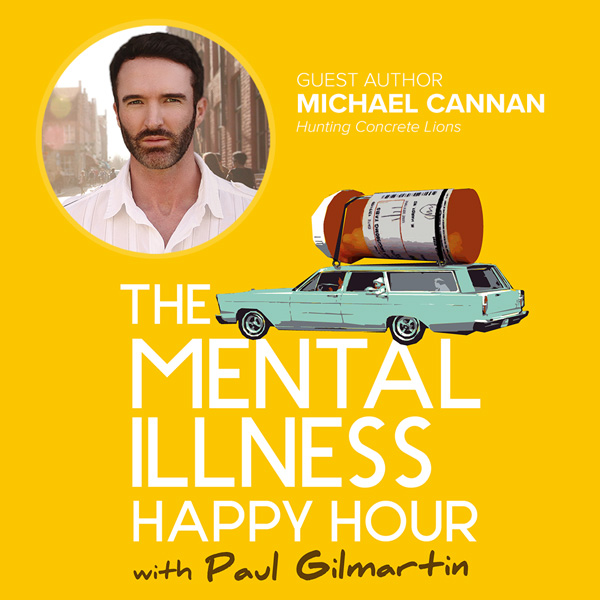 Guest Author Michael Cannan
The Mental Illness Happy Hour
Paul R. Gilmartin is an American stand up comedian, podcast host and television personality best known as the longtime host of TBS's Dinner and a Movie. Since 2011, he has been the host and executive producer of the podcast The Mental Illness Happy Hour.
The Mental Illness Happy Hour is a weekly online podcast that interviews comedians, artists, friends, and the occasional doctor. Each episode explores mental illness, trauma, addiction and negative thinking.
J.D. Grayson
Amazon Reviewer
This was my favorite memoir I have read in many years. Cannan's life is a story worth telling and his ability to bring his past into sharp focus with gifted writing kept me turning the pages with my nervous system on high alert. A gripping redemption story well-told by a gifted writer with something to say. This book gets my highest recommendation.
S Nicholson
Amazon Reviewer
Such an honest and open book where you will laugh, cry and be extremely shocked! I literally couldn't put this book down and now I've finished it I want to read it all over again. Michael shows that anything is possible if you want it to happen and I have no doubt that this will help many others. He truly is an inspiration.
Leanne Meader
Amazon Reviewer
I'm not really one for writing reviews but I think this book deserves one. It's a brilliantly written book, I couldn't put it down from start to finish. You can tell that Michael has put his heart into this book and it shows in the writing. It's a book that I could read over & over. If I could give 10 stars I would.
This really is the bravest, most open and honest book I have ever read. It made me laugh, cry, physically sob, sometimes cringe and then laugh again.
Extremely raw and honest...The book is extremely well written and leaves no room for you to come up for air. Do not expect a skimmed over version of a downward spiral in to addiction. Be prepared to get angry, cry, laugh then and cry some more. Exceptional book.
This is the most amazing book I've read in a very long time. I was totally hooked from the first chapter...and it just seemed to get better. The bottom line here was one of the authors deep down desire to live a full and balanced life. His own strength of character is coupled with acceptance that something had to change - and a wonderful sense of humour. It gives hope to all of us whatever our situations might look like. Fabulous - and I'd highly, highly recommend it.
I was blown away by the honesty of Michaels writing. It must have been tough to pen such an open, frank and gritty read. It will at times make you feel uncomfortable, question your own life decisions and close calls. I can see this being an inspiration to individuals in the grip of the demons around them and give hope to their family and friends.
This book captured me immediately. It portrays the harsh reality of how and why ANYONE can get addicted to alcohol and drugs, especially people who you wouldn't expect to. It gives the harsh realities of the harm caused to people around the addict but also shows that there is a road to recovery. Every page had your attention.
Wow. What a funny, heartbreaking, inspirational book about addiction, raw and honest. Very well written. I read it virtually non stop.
What an inspirational book. A page turner from beginning to end. Thank you for your honesty.
Helen Cowie
Amazon Reviewer
I recently read Hunting Concrete Lions.. wow.. what a fantastic read. I literally could not put the book down. Very honest, very real. Well worth the read.
Ms Donna G Adamson
Amazon Reviewer
Couldn't put this book down. Well written and a brave, honest and at times hilarious account of very difficult experiences. Would recommend to all.
Karl Robinson
Amazon Reviewer
A great read - gripping from start to finish. Highly recommended for anyone who has struggled with addiction, or simply to find their own way in life. A brave, humerous and graphic account which shows how easy it is to make the wrong decisions in life, whilst demonstrating that the only person that can truly help you is yourself.
Clare Dutton
Amazon Reviewer
A truly fascinating, honest and inspirational memoir! Both funny and heartbreaking. Loved it and struggled to put it down!
MR A J LLOYD DAVIES
Amazon Reviewer
As a Manxman, I was attracted to the book cover and read the intro. Fully hooked this book was a two session masterpiece. A fantastic portrayal of a young man struggling with demons and his memoir is truly remarkable I recommend this to anyone with a heart.
Michael Cannan is a Chief Marketing Officer and writer. Born on the Isle of Man, he received a BSc from the University of Derby and is a certified personal trainer from the National Academy of Sports Medicine. A former celebrity fitness trainer he currently lives in San Diego, California.